As a small green island perched on Europe's wild Atlantic coast, Ireland has long enjoyed fantastic food produce. Irish waterways attract discerning anglers while the coastline boasts some of Europe's finest seafood. Cattle and sheep graze on patchwork fields to provide the excellent dairy products, grass-fed beef and lamb that grace menus throughout the land.
An exciting Irish food scene has developed, with new generations of speciality food producers opening the eyes of local chefs and food lovers as to just how good Irish food can be. This new pride in local cheese and charcuterie makers, farmers and fishermen, craft butchers, bakers and smokers is palpable: in the restaurants and cafés, in the farmers' markets and food festivals, in the food trucks and speciality stores. Time to meet some of the producers leading Ireland's foodie revolution.

1 Sheridan's Cheesemongers
A browse in Sheridan's Cheesemongers will whet your appetite for great Irish food. Nestled amongst the rolling hills of Ireland's Ancient East in County Meath, and housed in a converted railway station, the midlands headquarters is a charming place to sample the flavours of the land around it. Guided, of course, by people who love to share their knowledge. Complementing the range of Irish cheese, you'll find everything from hand-crafted Irish fudge to gutsy Irish chorizo. Swing by on a Saturday for the local food producer market, or catch the Irish Food Festival on the last Sunday of every May.

2 St Tola Goat Farm
Tucked between the Burren's limestone landscape and the Cliffs of Moher on the Wild Atlantic Way, St Tola Goat Farm is one of several 'Économusée' experiences throughout the island. These working farms introduce visitors to the craft behind their produce – in St Tola's case, award-winning cheese that's been hand-made from the milk of Siobhan Ní Ghairbhith's herd of giddy goats. Visitors can learn about the process at the farm shop and museum, or pre-book a tour for a hands-on experience. You'll be sure of a warm welcome, says Siobhan, who relishes "the genuine satisfaction visitors get from touching and holding the goats, feeding them and then tasting the cheese."

3 Broughgammon Farm
Goat meat is less common in Ireland than goat cheese but the family at Broughgammon Farm in Ballycastle, County Antrim, is busy changing perceptions and developing sustainable food sources from by-products of the dairy industry. "We're all about nose-to-tail butchery, and about re-connecting people to the food chain," says Charlie Cole, who farms kid goats and bull calves, as well as selling wild local game. Sample the delicious cabrito (kid goat meat) tacos at St George's Market in Belfast; book an Économusée tour of their sustainable farm and artisan butchery facility just off the rugged Causeway Coastal Route in Northern Ireland; or even sign up to a hands-on butchery class with Charlie or his mum Milly.

4 Broighter Gold Rapeseed Oil
A spectacular sight of early summer in Ireland is coming upon a golden field of oil seed rape in full flower. Named after the 'Broighter Hoard' of gold found on Leona and Richard Kane's County Londonderry farm, Broighter Gold Rapeseed Oil has wowed top chefs with its fine flavour and versatility. Cold-pressed with great care from a single variety grown by Richard, a sixth-generation farmer, it is described by Leona as tasting "pea-like, buttery, smooth and silky". From this fine base, they have developed a range of flavoured oils, including sunny lemon and feisty chilli oils. Visitors can pre-book with Leona, who will be happy to show you through the field-to-bottle process.

5 Connemara Smokehouse
As an island surrounded by what Connemara man Graham Roberts describes as "some of the purest water in the world", Ireland has a strong tradition of smoking fish. Connemara Smokehouse is perched on Bunowen Pier, on one of the most westerly stretches of the Wild Atlantic Way, with views of the ruined castle of pirate queen Grace O'Malley, and framed by the Twelve Bens peaks and the isles of Ballyconneely Bay. Graham carries on the tradition he learnt from his father, smoking the freshest of fish that was "caught that day and landed that evening". Visitors can buy directly from Graham and his dedicated team, or book in for one of the weekly Économusée tours.

6 Goatsbridge Trout Farm
As any angler can tell you, the inland waterways of this green island are also full of delicious fish. Mag and Ger Kirwan's Goatsbridge Trout Farm in Kilkenny harnesses the fresh waters of the Little Arrigle River. A visit to their third-generation Kilkenny fish farm gives a fascinating insight into the life-cycle of rainbow trout. As Mag says, "for us it's about doing everything with integrity and welcoming people to see where their food comes from". Drop into the visitor centre for a nosy around the lively fish ponds or book an extended tour for the chance to taste the Goatsbridge trout caviar and fresh, smoked and barbecued trout beloved of Ireland's best chefs.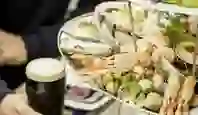 10 great food experiences
Soak in the views, savour the moments and embark on some of Ireland's greatest food experiences.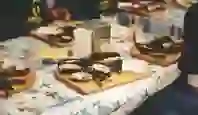 Follow the flavours
Fancy exploring Ireland's thriving food scene? Here are some of the best food trails around.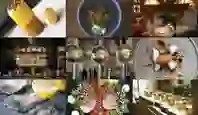 Food in Ireland
Fresh, tasty and made with a contemporary twist – here's why Ireland's a great food destination.