It's a sight that has been put into words many times, by many wordsmiths. "A sea of basalt blocks, black and hexagonal," writes Jim Richardson in National Geographic, "a long step from one to the next, descending into the sea, like primal pistons thrusting out of the earth."

This is the Giant's Causeway. And the moment your eyes fall on the 40,000 hexagonal basalt columns, sliding into the sea like dark stone steps into bubbling foamy waves, is a jaw-dropping one. Writers have long been drawn here, but it's no surprise that it's a location that also attracts artists, and especially photographers, from all over the world.

If you're looking to capture the visual wonderment of this landscape through the years, there are some tricks to getting it just right.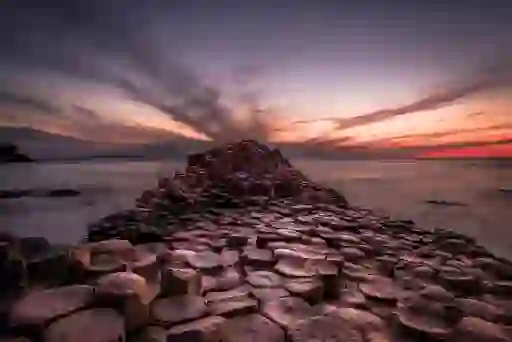 Chris Hill is an award-winning landscape photographer who counts the Causeway as one of his favourite subjects. His secret for capturing that misty magic in his image above is waiting for sunset.

"The Causeway always looks best during the last two hours of the sun. In spring and autumn, it comes in from the side and turns the columns a beautiful golden colour. If the sea is rough, it always makes for a better photo."
But what about Ireland's famously tempestuous skies, liable to change colour quicker than a mood ring? The pros agree that patience is not only a virtue, but also a necessity in landscape photography.

Luckily veteran Chris Hill has it in spades. "It's true to say I waited 30 years to take this shot," he says of his brilliant scene of the Causeway's basalt columns capped with snow.