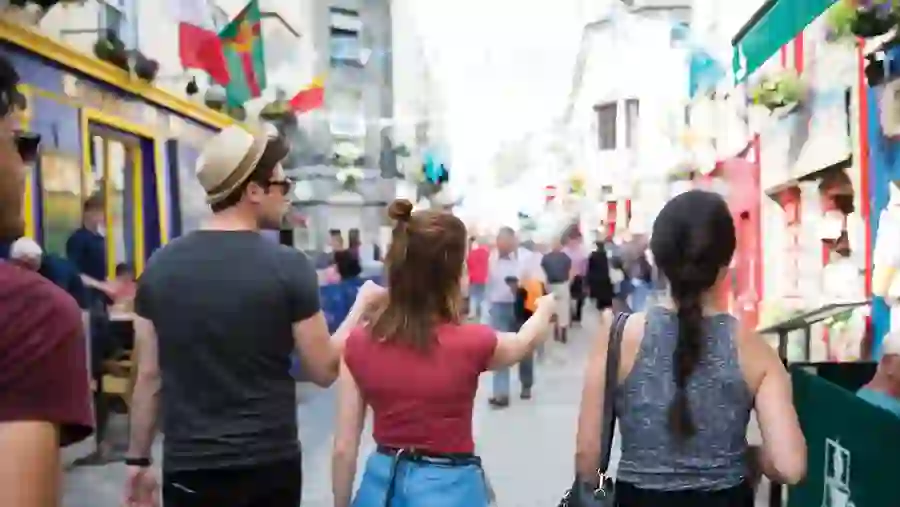 Terms and Conditions
Win self-drive holiday along the Wild Atlantic Way Food Trail holiday for two, courtesy of McKinlay Kidd Travel
Please read these Terms carefully, by participating in this competition you agree to be bound by these terms. Tourism Ireland reserves the right to exclude participants from this competition in the event of a breach of these conditions.

1. Organizer
Tourism Ireland, Nations House, 103 Wigmore Street, London, W1U 1QS, company registered at no. 336370, Bishop's Square, Redmond's Hill, Dublin D02 TD99.
2. Eligibility for Participation
This promotion is open to all residents of the United Kingdom aged 18+ at the time of the competition. Employees of Tourism Ireland and employees, agents or business partners of McKinlay Kidd are not eligible to take part in the promotion, nor are their relatives or members of their families or households and the immediate family members and persons living in the same household of each are not eligible to enter or win. The participant is the person who is the owner of the email address which is used for the participation in the competition. Participation is free of charge and independent from the purchase of goods or services. By participating in the competition, the user accepts these conditions.
Entrants must reside in the UK and be aged 18 or over.
3. Participation
Tourism Ireland reserves the right to exclude any participant from the competition if there is any indication of misbehaviour, improper conduct, fraud, or inappropriate acts before or during participant's presence.
The prize provider retains the right to substitute the prize or elements within the prize with another prize or elements of similar value if the original prize or specific elements offered are not available.
Likewise, the organisation reserves the right to withdraw the participation of any contestant in the case of the use of fraudulent mechanisms to participate in this competition (including but not limited to false identity, wrong age, address etc.) The organisation reserves the right to request official documents to prove the identity of the participants in the case of them being winners.
4. Entry
Entry to this competition is through Tourism Ireland's website www.ireland.com. Only one entry per participant is allowed. Only competition entries submitted online via this website will be accepted. Tourism Ireland is not liable for any entries that get lost, or which are not received, are damaged or are invalid.
5. Promotional Period
The competition runs from 1 October 2021 and closes 31 October 2021.
6. Drawing of the Prizes and Notification
A prize-winner will be randomly selected among valid entries on Monday 8 November and contacted no later than Friday 12 November. If Tourism Ireland does not receive a response from the prize-winner by Monday 15 November , Tourism Ireland reserves the right to select another winner. The prize is subject to availability, non-exchangeable, non-transferable, and non-refundable. The prize will be given to the winner as set out in these terms and conditions. The winner must accept the prize in that form. There is no cash alternative. No alternative destination will be offered.
7. By entering the prize draw each entrant agrees to be bound by these terms and conditions.

8. The competition is open to residents of England, Scotland, Wales, and Northern Ireland only.

9. Participants must have a valid passport or National ID card to enable travel to the island of Ireland.

10. Participants must supply their name, surname, and a valid email address.

11. There is one prize consisting of McKinlay Kidd's self-drive Wild Atlantic Way Food Trail holiday for two people.

12. The prize includes return travel for a car and two adults between GB mainland and Ireland, eight nights on a bed & breakfast basis for two people sharing a twin/ double room in top quality, characterful accommodation – two nights in Kinsale, two in Co. Kerry, two in Dingle and two in Co. Clare. A four-hour food tour around Kinsale, a one-hour seaweed forage in Kerry including tastings, and a guided walking tour of the Burren. The winner will receive personalized holiday information including full directions and recommended routes from the specified starting port, plus suggestions on places to visit depending on interests and McKinlay Kidd's local knowledge.

13. The prize is for 2 adults only.

14. Dates of travel are from April 2022 to 31 October 2022. The prize must be booked by 31 March 2022. Travel dates and availability are subject to the lifting of Covid-19 restrictions and quarantine requirements by the British and Irish Governments, otherwise the final date for usage of the prize may be extended by McKinlay Kidd at their discretion.

15. The prize excludes: travel insurance; the cost of any passports, visas, or travel or health documentation required for the prize winner to travel to the Republic of Ireland; travel between the prize winner's home and the GB departure port; fuel and other motoring expenses; personal spending money; tips; or any food, drink or activities not mentioned in the prize description. Any additional taxes, costs and expenses incurred during the trip will be the responsibility of the prize winner.

16. McKinlay Kidd is not responsible for costs resulting from cancellation or delays to transportation services.

17. It is the winner's responsibility to check all visa, passport, travel insurance and health requirements are fulfilled.

18. In the event of cancellation by the winner, for whatever reason, no alternative prize will be given.

19. The winner uses the prize at their own risk.

20. Personal Data
Tourism Ireland is entitled with a view to the execution of the competition to store and process the personal data obtained within the scope of the competition from the participants in accordance with the provisions of the General Data Protection Act to the extent necessary for the implementation of the competition. The participants are entitled to access or correction in accordance with the statutory provisions and may revoke their consent given online with a view to the processing of their data at any time for the future by emailing dpo@tourismireland.com. For more information on how we handle your personal data please see our Privacy Policy.
The winner may be required to provide additional personal information like passport, driving license, etc. in order for Tourism Ireland (or McKinlay Kid) to make travel arrangements to and on the island of Ireland. Arrangements may be made directly through Tourism Ireland or through an agency. Information will need to be shared with relevant parties including air carriers, car hire providers, etc. Tourism Ireland will share only minimal information to facilitate these activities.
21. Acceptance of the Terms
Participation in this competition implies acceptance of these rules. By participating in this competition, participants agree, to release and hold harmless the Sweepstakes Entities and their respective agents from any and all claims, demands, damages, losses, liabilities, costs or expenses caused by, arising out of, or related to their participation in the competition and/or their participation in any Prize-related activities (including, without limitation, any property loss, damage, personal injury or death caused to any person(s).
22. Social Media
This activity is in no way sponsored, promoted or otherwise supported by Facebook/Instagram/Twitter and is in no way related to Facebook/Instagram/Twitter. Consequently, you indemnify Facebook/Instagram/Twitter against any claims concerning this activity. You acknowledge that you transfer your data and comments to Tourism Ireland and not to Facebook/Instagram/Twitter.