1. Shake off those cobwebs and take a bracing walk with Bambi… maybe join the rare white deer in Parkanaur Forest Park, County Tyrone, or the Fallow dear in Dublin's Phoenix Park?
2. Welcome a magnificent fleet of tall ships as they sail into port for the Belfast Titanic Maritime Festival in May.
3. Discover the Little Ark of Kilbaha in County Clare, a tiny mobile church used by an ingenious priest to celebrate mass in the 19th century.
4. Celebrate the sea at the Dingle Marine Festival in County Kerry in June, which includes a traditional blessing of the boats. You can even say hello to resident dolphin Fungie while you're there.
5. Journey into the heart of Winterfell, Dragonstone and Vaes Dothrak in Northern Ireland, otherwise known as Territory
®Game of Thrones.
6. Go snorkelling in the super-clear waters of Trá an Doilín (the coral beach), Carraoe, County Galway.
7. Get lost among ancient books, scrolls and objects d'art in Dublin's Chester Beatty Library, described by Lonely Planet as "one of the best museums in Europe".
8. Hunt for the Giant's Grave in the countryside around Clonmel in County Tipperary – a massive pillar of stone with crosses carved on two of its faces.
9. Visit the evocative Titanic Pier in Cobh, County Cork, where the doomed liner took on its final passengers.
10. Explore the Deserted Village and 5,000-year-old megalithic tombs on the slopes of Slievemore on Achill Island, County Mayo.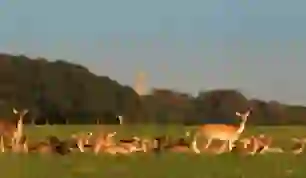 11. Get on the movie trail: Harry Potter, Excalibur, Leap Year, The Quiet Man, Dracula, PS I Love you… to name but a few.
12. Enjoy comedy, music and theatre at the Ballinamore Free Fringe Festival in August in County Leitrim.
13. Get gory and track down St Oliver Plunkett's head at St Peter's Church in Drogheda, County Louth.
14. Spot the shimmering solar phenomena known as the Northern Lights as it appears over the Wild Atlantic Way in County Donegal.
15. Put on your purple at the Wexford Lavender Farm in County Wexford, where you can learn about the history of lavender and its many varieties and colours.
16. See what inspired CS Lewis to create his magical wonderland of Narnia with a hike through the Mourne Mountains in County Down.
17. Take a trip around the Viking Triangle in Waterford city, founded by rampaging Norsemen back in 914AD.
18. Do a full circle of one of Europe's finest fully-walled cities and delve into a bit of 17th-century history looking down over Derry~Londonderry city.
19. Explore the life and work of one of Ireland's most important poets, W.B. Yeats, at the Yeats Room at the Sligo County Museum.
20. Step back 1,000 years to the Battle of Clontarf and the demise of Ireland's most famous King, Brian Boru, with celebrations spanning Armagh, Clare, Dublin and Tipperary.
21. See if you can spot the Lough Ree Monster on the mystical Lough Ree in County Longford.
22. Go whale watching in West Cork, a protected sanctuary since the 1990s; keep your eye out for Fin, Minke and even Humpback off these shores.
23. Watch the super-surfers at Bundoran in County Donegal, hailed as one of the World's Top 20 Surf Towns by National Geographic.
24. Explore Fore in County Westmeath, site of a 7th Century abbey, and home of the seven wonders of Fore, including the tree that won't burn and the water that flows uphill.
25. Retrace the footsteps of James Joyce's greatest literary character, Ulysses's Leopold Bloom, starting at Sandycove's Martello Tower in County Dublin.
26. Climb scree-covered Croagh Patrick in County Mayo and stand atop the holiest mountain in the west of Ireland (footware optional!).
27. Hear thrilling tales of pirates, lost love and Ireland's famous Claddagh ring at Thomas Dillon's Claddagh Ring Museum in Galway city.
28. Shudder at the thumbscrew, a gruesome medieval instrument of torture, on view at the award-winning Monaghan County Museum.
29. Behold a pre-Christian god (or statue of one at least) with a contentious past on Boa Island on Lough Erne, County Fermanagh. Is he Roman? Pagan? Some call him an alien!
30. Feed your soul with a visit to the Limerick City Gallery of Art to contemplate works by Jack B Yeats and Sir John Lavery.
So there you have it… start your free adventures in Ireland this summer. How many will you tick off the list?