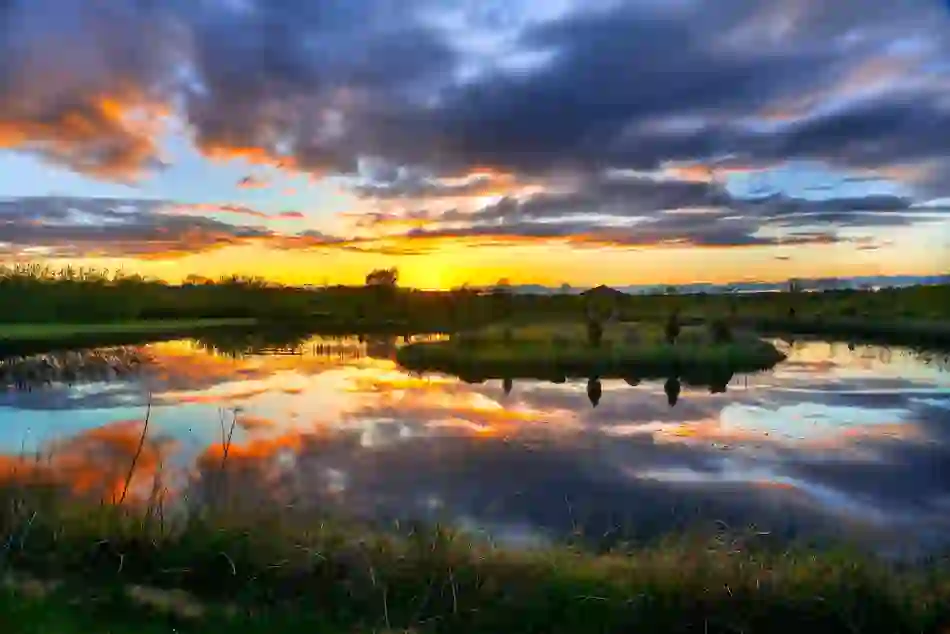 Where to stay in Ireland's Hidden Heartlands
1. Glamping hotspots
Glasson Glamping, County Westmeath
This family-run farm is an absolute gem. Visitors can choose to stay in everything from a wagon, to a pod, to a shepherd's hut – and then, of course, there are the brightly painted double-decker buses. A communal kitchen, large family bathroom and games room are available to all visitors, while the owners have also created a "wellness walk" that weaves through the farm.
Teapot Lane Glamping, County Leitrim
If you want to find the "glam" in "glamping", the adults-only Teapot Lane resort is the place for you. A romantic treehouse, cosy cabin and even a geometric dome are just some of the options available to visitors, and each one comes with access to the woodland dining shelter, communal barbecue and shower area. Keep an eye out for the furry friends who call this place home: wild deer, foxes and badgers are all known to pass by!
Willowbrook Glamping and Hideaways, County Roscommon
Set on the idyllic banks of the River Lung, Willowbrook offers guests the choice between one of its three funky yurts, "Arabian Nights Hideaway" or "Enchanted Forest Room". Extra treats include a private, wood-fired hot tub, and access to the Willowbrook Natural Healing Clinic, where you can avail of acupuncture, massage and even Tai Chi classes.
4. Cute Bed & Breakfasts
Augherea House, County Longford

Dating back to 1775, this magnificent converted Georgian coach house is set on spacious grounds on the outskirts of Longford town. Guests rave about the peace and quiet, and the friendliness of owners Matt and Mary, who live next door in the main house. Praised for its particularly delicious breakfast, this is the perfect spot to fuel up for a day's cycling or strolling along the nearby Royal Canal Greenway.

Lissanisky House, County Tipperary

Built in the 18th century on the site of the medieval O'Meara Castle, Lissanisky House sits prettily on 10 well-kept acres. Visitors to the house are in for some tasty treats, thanks to the trees in the property's Victorian walled gardens: apples, pears, plums, quince and even hazelnuts make an appearance on the menu! Beyond the food, the house has a fascinating history, with previous owners including Dr Barry O'Meara, Napoleon's doctor during his exile on St Helena.

Castlefergus Lodge, County Clare

From the moment you arrive at Castlefergus Lodge, it's clear you'll have plenty to see and do. Every bedroom has a view to write home about, with the towering Ballyhannon Castle right outside the window. And with attractions like Knappogue Castle and Craggaunowen open-air museum just minutes away, you might be tempted to spend barely any time at all in the B&B – but don't forget to give the onsite "bring your own" bar a visit!